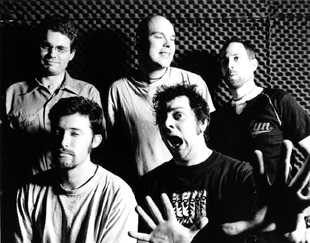 The DGQ: Who are we?
Schizophrenic-satirical-audio-theatrics.
The Dimitri Gurevitch Quintette, aka The DGQ, plays an innovative and brilliant style of music encompassing virtually all musical genres. Members of this New York City based group combine diverse musical backgrounds to create a unique brand of music that can be described as Avant Garde-Hardcore-Acid-Funk-Jazz with a twist of lemon. The sounds of Frank Zappa, Napalm Death, and The Mormon Tabernacle Choir seep into the DGQs compositions and arrangements like a nasty rumor through the high school cafeteria.
The band, founded in 1993, began when a couple of unemployed musicians (typical) started banging on some birdcages with irons, but in 1996 they got new irons and a more permanent line up. The players include Dimitri Ivanovitch Gurevitch, a fictional leader who was an ex-KGB agent turned circus ring leader Alan Lerner, an acid-funk drummer/percussionist who has played with Joe Gallants Illuminati and other turbulent NYC acts, Justin Mullens, a jazz trumpet player who also writes, arranges and mixes drinks for the Delphian Jazz Orchestra, Erik Hoagland, an avant garde saxophone player who enjoys bike rides in the park, sunsets and is not afraid to cry, William Carl Black, a chemically challenged bass player who has ruptured spleens with such bands as Human Remains and Full Speed Ahead and finally, the founding member, Matt Bergman, a few screws loose guitarist with questionable personal hygiene.
The DGQ appears regularly at many NYC venues such as The Knitting Factory (including the sold out 1996 Klezmerfest), Wetlands, CBGBs, and ABC NoRio. Theyre also performing around the East coast in, Baltimore, Philadelphia, the New Jersey Shore, and Rochester, NY playing at VFWs, sports bars, synagogues, and day care centers.
They recently released their second CD (Stream of Subconsciousness e.p., a follow up to their critically acclaimed, morally corrupt, self-titled 1997 debut CD) on SmellyCat Records and have two seven inch records out on Illumination Records and Catechism Records. They are currently getting airplay on several college and public radio stations across the nation from WFMU in Jersey City, NJ to KUSF in San Francisco, CA.
Table of Contents - Gigs/Current Affairs - Merchandise - Band Biography - Press Reports
Caught on Film - Ancient History/Dossiers - Mailroom - Links to Hell