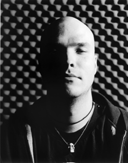 NAME: William Carl Black
AKA: Otto, Swill, Thurmon Munson XV
HAIR: None
EYES: Brown
SEX: Male
HEIGHT: 6'1"
WEIGHT: 146 lbs.
MEASUREMENTS: 37, 31, 33
DATE OF BIRTH: March 15, 1969 A.D.
PLACE OF BIRTH: Brooklyn, NY, USA
REASON FOR BIRTH: Incidental
TURN ONS: Lots of beeeeeeer!!!!, Duct Tape, Safety Pins, Shoe Glue, U.S. Army Surplus Clothing, 39cent Big Gulps, 1970s Ford Vans, Chicks with liberty spikes, Pissing people off, Cheese sandwiches, More kegs of cheap beer!!!
TURN OFFS: Ash trays, Beer bottles as ashtrays, Handcuffs, Authority, Dishwashing, Mint beer, Japanese beer, Phish, Hippie odor, Being pissed off, Probation, Animals slaughtered for human consumption.
AMBITIONS: To brew, drink, piss and vomit as much beer as humanly possible in one lifetime.
SKILLS: Punk Rock Bass player, Funk Drummer, Commercial sexual events coordinator, Illegal pharmaceutical distributor, Counterfeiter, Cartoonist, Television program planner, Tenor opera singer, Petroleum distribution technician, Periodical distributor, Purebred domestic rodent breeder.
PERSONAL HISTORY: Stealing and burning cars for the Mafia at age 5 and an alcoholic by age 6, he dropped out of school and moved into the basement of a club on the lower east side of Manhattan. He was raised by crusty alcoholic punks who found him asleep in an old PA speaker. William got his first bass guitar at age 9 during a Sex Pistols show. Sid Vicious was too intoxicated to play and threw his bass at William's head, rendering him hairless. Dimitri found William passed out on the bathroom floor of his east side residence. When asked if he was interested in joining the DGQ, Will asked in a shakey modulating tone, "Will there be (burp) beer?" Dim said "Yes we can accommodate your needs!" The rest is history.
---
Dimitri Gurevitch - Matthew Bergmann - Erik Hoagland - Alan Lerner - Justin Mullens
---
Table of Contents - Gigs/Current Affairs - Merchandise - Band Biography - Press Reports
Caught on Film - Ancient History/Dossiers - Mailroom - Links to Hell