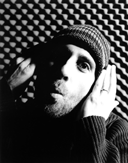 NAME: Alan David Lerner
AKA: The Rocket, Boom Boom
HAIR: Brown
EYES: Blue
SEX: Male
HEIGHT: 5'8"
WEIGHT: 140 lbs.
MEASUREMENTS: 10, Blue42, Hike
DATE OF BIRTH: April 28, 1966 A.D.
PLACE OF BIRTH: NYC, NY USA
REASON FOR BIRTH: Tax Break
TURN ONS: Wood, Garbanzo Beans, Mules, Foam, Rain, Natural Goat Musk
TURN OFFS: Clothes, Leaders, Brown Acid, Circumcision, Milk, Parking, Suits, Questions
AMBITIONS: To be able to turn his head 360 degrees
SKILLS: Drummer, Face off specialist, Tugboat operator, Maker of loud bodily sounds,
PERSONAL HISTORY: Upon Alans birth, the Lerner parents were deeply despondent over Alans failure to transcend the cycle of rebirth and death. Overwrought with despair, they quickly transported the infant to Saskatchewan and out of their sight. At this point in his life Alan was feeling very rejected and unfulfilled, an inner aggression was beginning to build. He soon became interested in sports as a venue for his aggression. It seemed the life of a hockey player was becoming increasingly appealing. Unfortunately the beating of heavily padded humans was not enough to satisfy Alans inner aggression. He then tried beating unpadded humans, this too was not his calling. Alan discovered his musical inclinations when his hockey team was playing in Moscow at a cultural festival, Alan noticed a sign recruiting a drummer for a the circus band. Having an interest in beating something other than humans Alan applied for the job. Having a natural instinct for rhythm he got the job working under the musical direction of the "omnipotent" Dimitri Gurevitch. The rest is history.

---
Dimitri Gurevitch - Matthew Bergmann - William Carl Black - Erik Hoagland - Justin Mullens
---
Table of Contents - Gigs/Current Affairs - Merchandise - Band Biography - Press Reports
Caught on Film - Ancient History/Dossiers - Mailroom - Links to Hell